GHOSTVILLAGE.COM NEWSLETTER #145 - April 16, 2014

Buy Books by Jeff Belanger | Jeff Belanger's Official Web site | Visit UFOvillage.com | Like us on Facebook | Paranormal for Kids | Meet the Staff | Advertise with Ghostvillage.com

30,703 Subscribers to this newsletter!

Be sure to forward this on to your friends who are interested in the supernatural!

Mysteries of Paris is a new book by legendary esoteric and vampire author Father Sebastiaan, master storyteller of the Paris Ghost Tour. This book will be the first English language book to explore the "Darkside of the City of Lights" including vampires, legends, executions, ghosts, haunted places and mysterious locations of the world's most romantic city. https://www.kickstarter.com/projects/fathersebastiaan/mysteries-of-paris-ghost-vampires-and-legends-book
---
You are receiving this email because you or a friend signed you up at http://www.ghostvillage.com. If you would like to be removed from this mailing list, please see the instructions at the bottom.
View this newsletter online at: http://www.ghostvillage.com/newsletters/Apr16_14.htm
---
Dear Ghostvillagers,


After many months of hard work, I'm proud to announce the rebirth… the reincarnation of Ghostvillage.com! While we're not totally finished with the upgrades and updates, we are now on a new platform that is slick, and it will give us the room to expand well into the future. The site now works on all browsers, smartphones, and tablets, you can search easily and quickly through thousands of pages of content, and you can easily submit and interact with everything in our village. This is just the foundation, just the beginning of what we have in store for you.

There are two people I need to thank above all others. First, master programmer (and DJ) Jeremy Winterrowd did all of the back-end work on the new Web site. He wrote a program to move over 2,500 pages of flat HTML content into the new database. If we did that by hand, we would be ghosts before we could have ever finished the project. Second, I need to thank my high school buddy and master Web guy, Jason Barsi, for all of the help on the front end. He gave the site the new look and a lot of the functionality. And finally, I need to thank photographer Frank Grace – whose amazing and creepy photos now lurk throughout the Web site. These guys made all of this possible.

So go ahead and take a look around. Kick the new tires a bit. But know that in the coming weeks, there will be more changes coming. Our message boards will be fully integrated into the Web site, plus a lot of new content will be coming on board. Ghostvillage.com is going to become a paranormal network of words, sights, and sounds. We'll carry your favorite paranormal radio programs, plus original video content. I can't wait for you to see it!

So this month's theme is appropriately reincarnation. You don't have to buy into the notion of past lives to appreciate reincarnation. Maybe the idea is as simple as the fact that we must keep evolving and growing into new people, or we truly die. We must challenge ourselves, learn from our past, and commit to accomplishing great things for ourselves and the people around us.

There's a saying in the arts that we stand on the shoulders of giants. Meaning that we're a product of the masters who inspired us and the masters who inspired those folks before them. Does Mozart not sneak into some killer guitar solos? Is there not a piece of Da Vinci appearing in even the most obscure street graffiti? Chaucer in a Tweet? Maybe reincarnation isn't so far-fetched?

Enjoy your new village, folks. And get ready for a lot of great new content!

Enjoy the rest of the newsletter below.

Supernaturally yours,

Jeff Belanger
Mayor of Ghostvillage.com
Twitter: @THEJeffBelanger
Facebook: Jeff Belanger
YouTube: www.youtube.com/legendtripping





The Spirits of the Murdock-Whitney House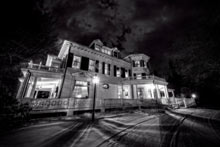 Whomever the old woman is that haunts the Murdock-Whitney House, she's very protective of her home. She wanders the hallways, and is especially averse to allowing people into her bedroom. Her footsteps are heard throughout the house, including the mysterious third floor, in which the staff refuses to enter by themselves.

Built from 1820-1830, the Murdock-Whitney House is the home of the Winchendon Historical Society and one of the town's most beautiful and historic mansions, with its Colonial Revival redesign and Victorian elements.

Joining us on this event will be Dustin Pari from Ghost Hunters and Ghost Hunters International! Click here for more information: http://www.legendtrips.com/Murdock-Whitney-House2014.shtml





Jeff Belanger's Upcoming Events

This is the place to find out where author and Ghostvillage.com founder Jeff Belanger will be speaking on the subject of the paranormal. If you're interested in booking Jeff for a conference or other event, please visit: http://www.jeffbelanger.com/lectures.php for more information.

Events Scheduled:

Paracon Australia - Maitland Gaol, New South Wales, Australia - May 10-11, 2014
A Weird Massachusetts Evening at the Haverhill Public Library - Haverhill, Massachusetts - May 22, 2014
Terror Con - Providence, Rhode Island - June 7-8, 2014
2014 MENSA North American Annual Conference - Boston, Massachusetts - July 3, 2014
The Spirits of the Murdock-Whitney House - Winchendon, Massachusetts - July 12, 2014
A Weird Massachusetts Evening with Jeff Belanger - Norton Public Library - Norton, Massachusetts - August 12, 2014 6:30PM
Fantomfest - Austin, Texas - September 27-28, 2014
Paracon 2014 Shooting Star Casino - Mahnomen, Minnesota - October 10-11, 2014
A Supernatural Evening with Jeff Belanger - Hudson Public Library - Hudson, Massachusetts - October 15, 2014 6:30PM
A Supernatural Evening with Jeff Belanger - Hudson Historical Society - Hudson, New Hampshire - October 16, 2014 7:00PM
A Supernatural Evening with Jeff Belanger at SUNY Genesee Community College - Batavia, New York - November 7, 2014 7:30PM





Ghostvillage.com Advertising Opportunities

Each month Ghostvillage.com reaches tens of thousands of people interested in the paranormal. We offer the most effective and best-valued advertising and sponsorship packages of any paranormal media outlet. Please visit: http://www.ghostvillage.com/advertising.htm for details.

If you're ready to put Ghostvillage.com to work for your company or organization, send us an email to get started.




Ghostvillage.com Quick Stats:

326,426 Posts in the Town Square Message Boards
30,295 Members in the Town Square
1,141 "Personal Encounters" published on Ghostvillage.com
30,703 Subscribers to this newsletter


Ghostvillage.com is the Web's largest supernatural community, the central place where people come to share their experiences, thoughts, and research. Please help us continue to grow by buying a copy of The World's Most Haunted Places, Communicating With the Dead, The Encyclopedia of Haunted Places, The Nightmare Encyclopedia, Our Haunted Lives, Ghosts of War, The Ghost Files, Weird Massachusetts, Who's Haunting the White House?, The Mysteries of the Bermuda Triangle, Picture Yourself Legend Tripping, Chasing Spirits, 2014 Haunted New England wall calendar. Every little bit helps run our servers and helps the site get bigger and better! Please also click on our banner ads and support our advertisers -- when you do business with someone who advertises with Ghostvillage.com, let them know you saw their ad with us and thank them for the support.

Please email us anytime at info@ghostvillage.com. Your comments, questions, and feedback are always welcomed.


---
All material is © 2014 Ghostvillage.com
REMOVAL INSTRUCTIONS: To be removed from the mailing list, please go to www.ghostvillage.com/subscribe.shtml or click on the link below.