Remembering Lee Prosser
By Jeff Belanger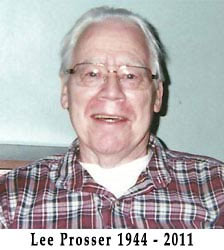 Ghostvillage.com has always been a Web site about ghosts and the paranormal. By discussing ghosts we're really exploring what comes after we pass on. Ghosts offer us a safe way to explore the topic of death without facing it head-on, but death is indeed the elephant in the haunted room, isn't it?
You'd think a person like me who believes in an afterlife and explores ghosts full-time would have gotten so used to death that a friend's passing would be easy. It isn't.
On July 10, 1011 at 10:30 AM, the Ghostvillage community, and the greater paranormal community suffered a great loss. It's with a heavy heart that I need to announce the passing of my friend and colleague, Lee Prosser. He was 66 years old.
Lee has been a prolific and steady Ghostvillage contributor since 2003. He's been our book reviewer, a columnist, and more than anything, a friend to not only me but the paranormal community at large.
I recall many telephone conversations I've had with Lee over the years. We talked about ghosts, about books, the writing life, his art, and sundry other topics. Lee was a kind and open soul, ready to listen, eager to laugh, and fond of putting himself into life's mysteries. Whenever I had troubles or stress, Lee always offered to light a candle for me in the hopes that better days were coming soon. He must have lit over a hundred for me over the years. He was a Vendantist -- a person who studies an ancient Hindu text called Upanishads, and who follows a philosophical system whereby believers strive to transcend the limitations of self-identity and become one with Brahman -- the highest possible level of living and enlightenment. Lee didn't just believe this, he lived it.
Lee was also a sensitive, he could see spirits almost everywhere he went. He would use those experiences to fill some of his many books. Some of Lee's titles include: Isherwood, Bowles, Vedanta, Wicca, and Me; Night Tigers; Running from the Hunter; Desert Woman Visions: 100 Poems; Midwest Hauntings; Branson Hauntings; Missouri Hauntings; and UFOs in Missouri. We're fortunate that he's left us so much of his work to ponder.
When Lee started writing his column for Ghostvillage several years ago, he decided to call it "Bide One's Time," the point being that we're all biding our time until we pass on to whatever comes next. If anyone can reach back and give us some hints, I have no doubt it's Lee.
His writing wasn't all Lee left behind. He's survived by his wife, his children, and grandchildren. Lee was not a wealthy man. His heartbroken widow, Debra now faces a great number of bills related to Lee's untimely death, his hospital bills, and his funeral costs. In an effort to help Debra and remember Lee, Ghostvillage has set up this memorial page. Through PayPal you can send funds directly to Lee's widow, Debra Prosser.
Also, if anyone wants to post any thoughts on Lee or well-wishes, we will forward them all along to Debra who is feeling Lee's loss more than any of us ever could. You can email them to: info@ghostvillage.com.
Lee had a love for music, for painting, for his many cats, and for writing -- passions I have no doubt he will continue pursuing in the next life. In the coming month we will remember Lee through his work in the paranormal and through his books.
Please keep his wife, Deb, and his family, friends, and fans in your prayers as they mourn his loss with the rest of us.
Lee, I've lit a candle for you, though its flame will pale in comparison to yours.